Accomo Co., Ltd. (Mitaka City, Tokyo, CEO Koji Hayashi) has released MyPage, a new function for touchless check-in using QR codes and smartphones for accommodation facilities.
About MyPage
It is a function that makes the most of smartphones so that hotel operations can be done more digitally and guests can stay smart at the hotel. We help reduce operating costs and increase efficiency for staff working in hotels, while providing a more comfortable stay for guests.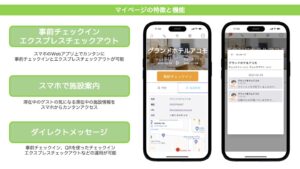 Functions
- Easier Pre Check-in and Express Check-out
Until now, it has been possible to check in in advance and check out using the guest's smartphone, but now it is possible to do it with a few taps, making it even easier. Ta.
- In House Information on Smartphone
Why don't you provide for guests to browse the hotel information installed in each room on their smartphones? It just realized to smartly provide guests with information that they may not always need, but which they may need when something is important.
- Send a message directly to the guest's smartphone
Have you ever wanted to contact a guest directly but didn't know where they were? You can send messages directly to guests using the My Page function.
Company Profile, and Contact
Acomo runs business with the mission of "More Efficiency in Tourism Industry." We are developing various businesses related to tourism such as B2B ordering reservation system for accommodation facilities, and BPO for Tourist Destinations.
Acomo Inc
Contact: Koji Hayashi
Phone +81-5055780667
Email koji@acomo-inc.co.jp
URL https://acomo-inc.co.jp