Acomo will support the "Okinotorishima Forum" held by Tokyo Metropolitan Government, which will be distributed online for the first time to prevent the spread of new coronavirus infection.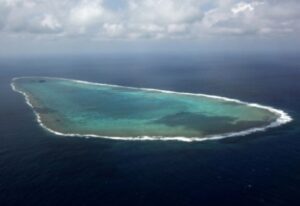 Okinotorishima is an island consisting of coral reefs located on the Pacific Ocean far south of Tokyo, and belongs to Ogasawara Village, Tokyo. The Okinotorishima Forum is held every year in Tokyo to help more people and citizens understand the importance of Okinotorishima, which is blessed with precious marine resources and has a vast exclusive economic zone. However, this year it was the first online event to prevent the spread of the new coronavirus infection. Acomo supports as the secretariat of this forum.
Okinotorishima Forum Outline:
■ Period
Starts from 9:00 on Wednesday, March 17, 2021
Ends at 24:00 on Wednesday, March 31, 2021
■ Homepage Link
※終了しました
■Contents and Programs
<Lecture on Okinotorishima>
・Introduction of Okinotorishima
Okinotorishima piled up to a thickness of about 9m in 3,000 years from 7,000 years ago to 4,000 years ago, and built coral reefs near the surface of the sea. The upward growth rate of coral reefs as a terrain is 3 m / 1000 years, or 30 cm / 100 years. Sea level rise due to global warming is expected to be 20-100 cm by the end of this century. If global warming is successfully controlled and the amount of sea level rise is small, coral reefs will be able to catch up with the sea level rise and maintain low tide lines and natural wave protection.
・Okinotorishima seen from the world
Why can Okinotorishima, an uninhabited island on a deserted island, serve as the starting point for an exclusive economic zone that is larger than Japan's land area? Are such examples rare in the world? What was judged in the recent international trial on the South China Sea? I would like to consider the current situation and issues of Okinotorishima through the rules of the international community and their interpretation.
・ Video distribution of Okinotorishima DVD library (online video)
Overview of Okinotorishima 34 minutes
Conservation of Okinotorishima 31 minutes
Tokyo Metropolitan Government's efforts 28 minutes
Biological resources in the surrounding sea area 29 minutes
Okinotorishima's new initiative 30 minutes
Organisms in coral reefs 37 minutes
Okinotorishima Island Overview and its potential 11 minutes
Do you know? Secret of Okinotorishima 15 minutes
Welcome to Okinotorishima, the southernmost island, 17 minutes
Creatures living on Okinotorishima 12 minutes
・Exhibition of photographs of Okinotorishima (online gallery)
Acomo will publish valuable photographs that you can not usually see, such as underwater photographs of the sea area around Okinotorishima.
■Reference:
・What is Okinotorishima?
Okinotorishima is located in the middle of the straight line connecting Okinawa and Guam, and is extremely important for national land conservation with an exclusive economic zone of about 400,000 km2, which exceeds Japan's land area (about 380,000 km2). In addition, it is the only tropical island in Japan, with an annual temperature of 24 to 30 ° C, close to the sea area where typhoons occur, and many typhoons pass through every year.
・Location and Scale
20 degrees 25 minutes north latitude, 136 degrees 5 minutes east longitude (southernmost point in Japan), coral reefs are 4.5 kilometers east-west and 1.7 kilometers north-south.
Surrounding concrete (including wave-dissipating block) diameter 50 meters for both Higashikoshima and Kitakoshima.
・Press Release:
終了しました
Company Profile, and Contact
Acomo runs business with the mission of "More Efficiency in Tourism Industry." We are developing various businesses related to tourism such as Touchless Checkin system, B2B ordering reservation system for accommodation facilities, and BPO for Tourist Destinations.
Acomo Inc
Phone +81-5055780667
Contact: Koji Hayashi
Email koji@acomo-inc.co.jp