Acomo has released new functions for PMS (Property Management System) for touchless check-in using QR codes and smartphones for hotels. By linking online check-in form to the PMS, both guests and staff in hotels realize data linkage without stress. As a result, the pre-check-in function and the payment function can significantly improve the work efficiency and increase the productivity at hotels. In addition, our touchless check-in can support both PMS on-premise type and cloud type.
Touchless Check-in URL: https://checkinherenow.com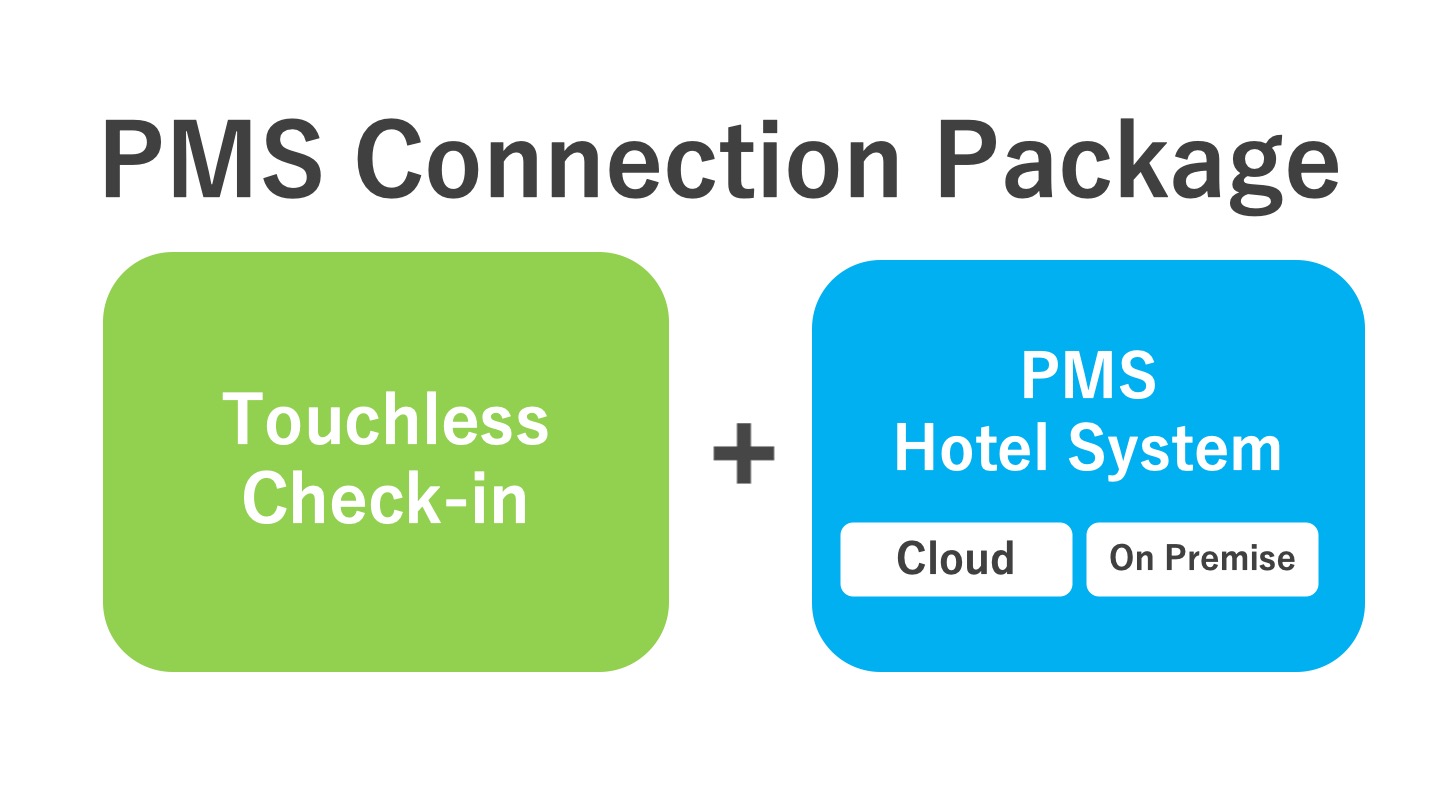 Sample Cases
- It is possible to send a pre-check-in email to guests on the day of check-in to complete check-in before arrival. Check-in will be completed on the train or car on the way.
- Guest's reservation details can be displayed on the check-in form on the smartphone. Make sure the guest confirms the reservation so that it is correct.
- Check-in is not limited to reception. After arrival, guests can check in with relax after you arrive in the room.
- It's surprisingly difficult to pay with luggage. If not paid, guests can make a credit card payment on your smartphone.
- After check-in is completed, it will automatically set check-in completion on PMS. There is no need to process with PMS each time.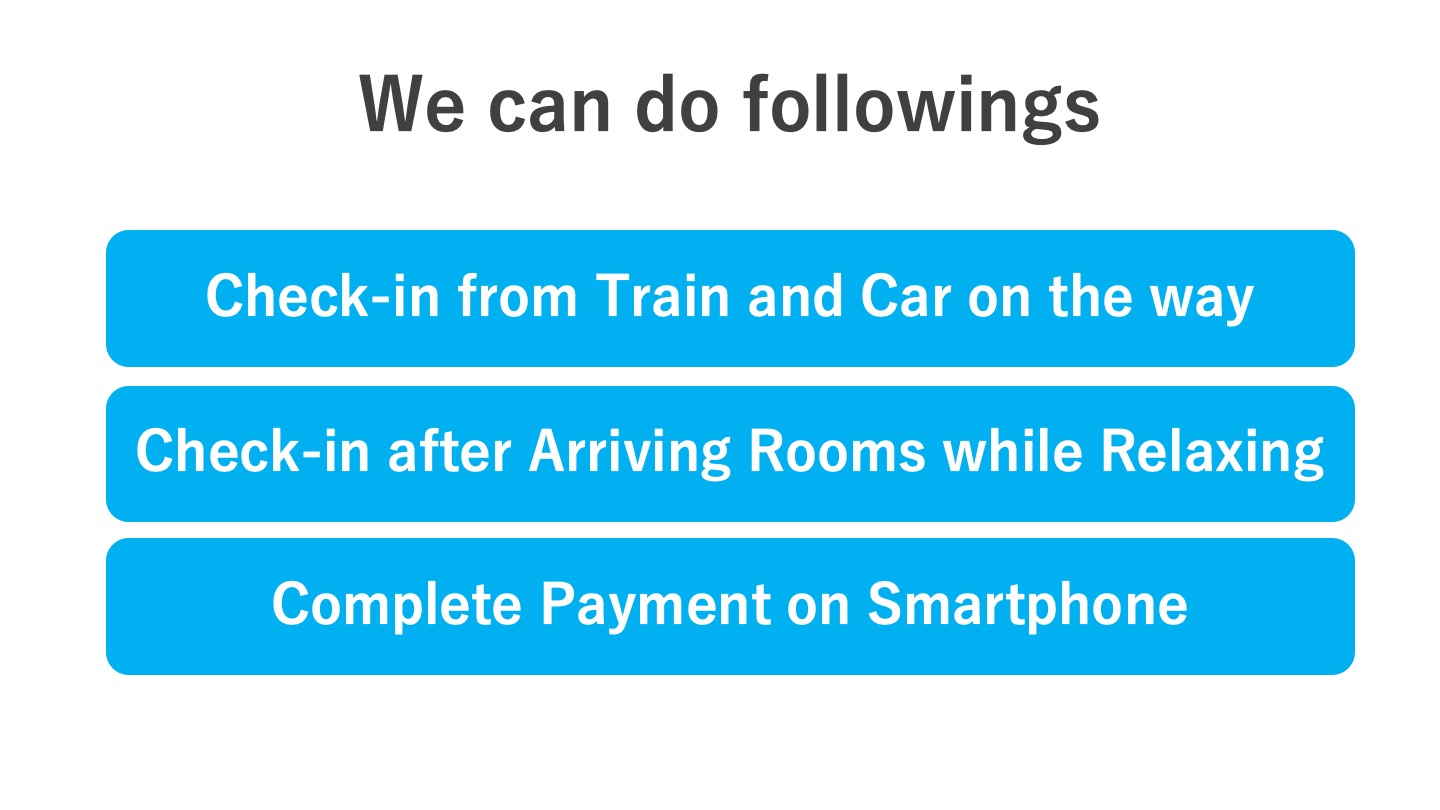 New Functions with PMS
- Pre-check-in function of the day and sending of pre-check-in email of the day
- Function to reflect reservation details on the visitor's check-in form
- Payment function at touchless check-in with credit card
- Function to check inventory, payment, and check-in for walk-in guests without reservations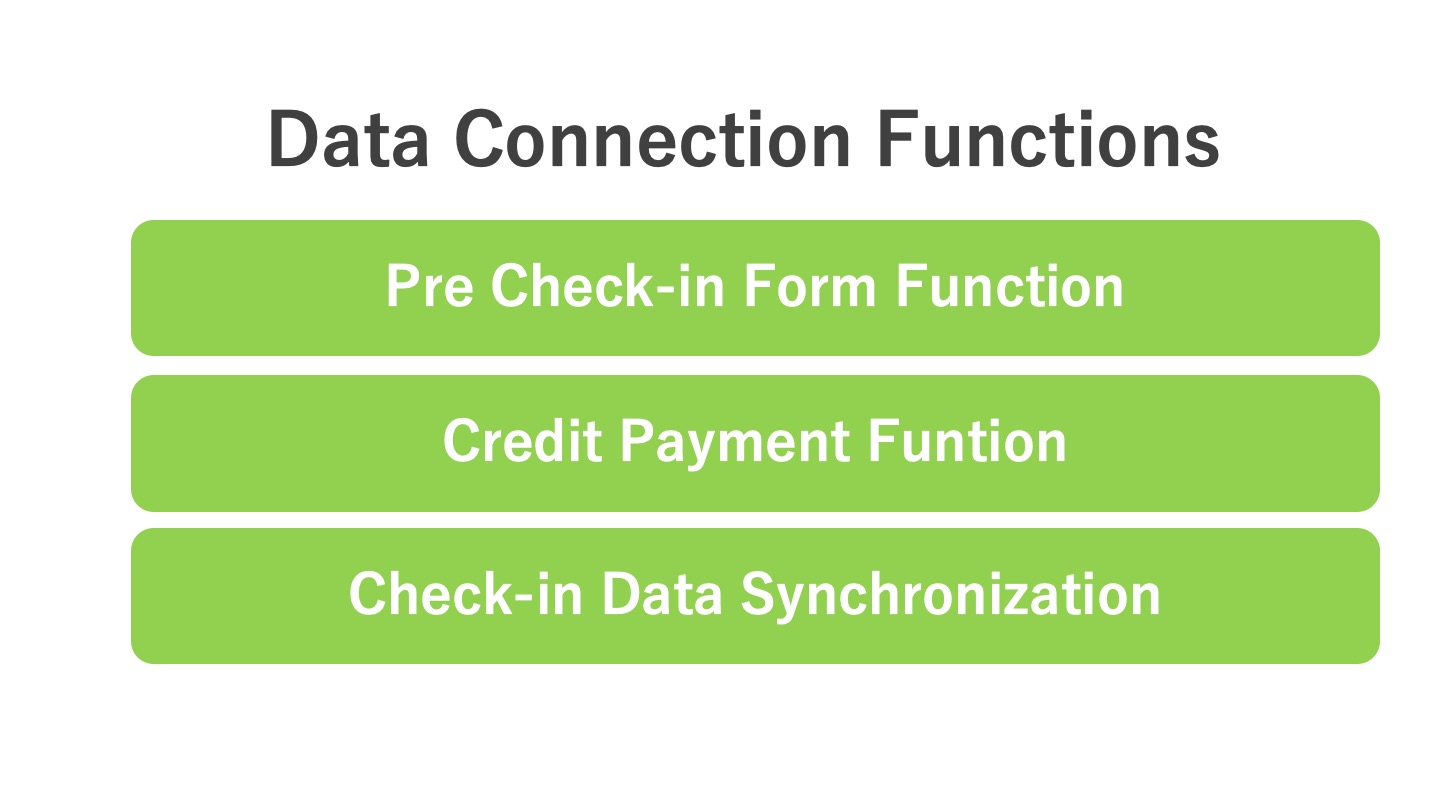 Available PMS
- Cloud type: PMS that is always connected to the Internet and the database is linked to the web server
- On-premise type: In-house operated by isolated servers and placed in the building
Since there are many types of PMS, please contact us for feasibility.
Start touchless check-in with PMS
- Regarding implementation, we will discuss what kind of check-in the hotel is currently conducting, and set the specifications of the future target operations. We will prepare a system based on the specifications. Also, it is also necessary to coordinate data with the PMS manufacturer, so coordination with the PMS manufacturer is also necessary. In that case, depending on the specifications, the PMS manufacturer may incur costs.
- Deploying touchless check-in with PMS will have initial cost and monthly maintenance cost.
- Please contact us for details.
Existing Functions
- Auto QR Code Generator
- Check-in Form Generator
- Registration Card Email
- Downloading Function for Scanned Passport and ID
- Terms and Condition Option
- Multi Languages Option
Offering Free Trial
We are currently conducting a free trial as a trial of touchless check-in so that it can be used at many facilities in Japan and overseas. Please register your account and give us your feedback. We look forward to your opinions and requests.
Touchless Check-in URL: https://checkinherenow.com
* Note: This is stand-alone model and the version not yet connected to PMS.
Company Profile, and Contact
Acomo runs business with the mission of "More Efficiency in Tourism Industry." We are developing various businesses related to tourism such as B2B ordering reservation system for accommodation facilities, and BPO for Tourist Destinations.
Acomo Inc
Contact: Koji Hayashi
Phone +81-5055780667
Email koji@acomo-inc.co.jp