Acomo Inc has published a case of touchless check-in using QR codes and smartphones for hotels and tourists spots. Our touchless check-in is now available for free trial, and features have been improved based on the feedbacks of user facilities. If you are interested, please visit the service website to create a free account and try it out.
Touchless Check-in URL:
https://checkinherenow.com
* Now Free Trial
- Background
We believed that our product had the strong purpose to prevent corona infections to avoid contacting, but we got to know that many facilities had problems with check-in. Regarding hotels, there was a challenge to streamline the complexity of check-in even before corona, and dance clubs also had a challenge to streamline the visitor records of guests as a countermeasure against infection. We hope that the examples of user facilities that are actually used can serve as a reference for improving efficiency and infection control.
- Hotel reopening and start touchless trial and expect PMS connection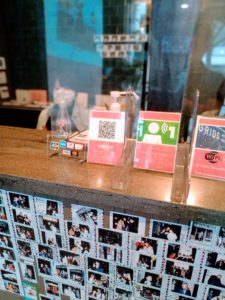 The Grids Tokyo Asakusabashi Hotel+Hostel uses our touchless check-in to check in for guests. It is a hotel in Tokyo, located in the Asakusabashi area that is easily accessible from Akihabara Station and Tokyo Dome. It also has a cafe and a bar, so you can enjoy a coffee or drink while interacting. Guests can enjoy and use it as a workplace.
The check-in procedure of this hotel is that guests need to scan the QR code placed in the lobby with their smartphones, and fill the information required for the check-in form on their smartphones. In parallel with efforts to prevent corona infections, it has been considering improving the efficiency of check-in, then decided to do trial. Grids Tokyo Asakusabashi Hotel + Hostel is also considering real-time connection of check-in data and PMS. By matching the check-in information with the reservation data that was originally captured, guests can check in without stress.
- Declaration of infection prevention at dance clubs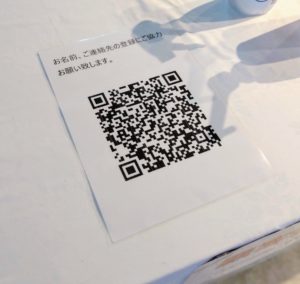 Lapis Tokyo uses our touchless check-in system to store guest visit records. Lapis Tokyo is a dance club in Tokyo, with easy access right next to Ginza Sukiyabashi, and a futuristic dance club with an interior image of Miami or Las Vegas, which is popular with fans interested in music and dance.
Lapis Tokyo has made a thorough declaration of infection prevention in dance clubs in order to meet the government's guidelines for infection prevention measures, and requires guests to record contact information (name and contact information) from the perspective of preventing the spread of infectious diseases. The guests scan the QR code near the entrance, enter the entry record on the smartphone, and record the information in the database of the user facility. While people are worried about infections at nightclubs, Lapis Tokyo is very proactive in taking preventive measures. In addition to protecting guests and employees of the facility, we also felt its great attitude as a place to enjoy the new normal.
- Pre-check-in in confirmation email the day before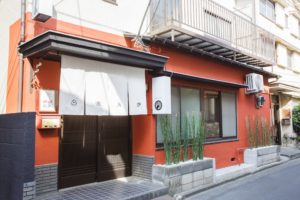 Nisshin Geppo Tokyo Kawasaki uses our touchless check-in to try pre-check-in to check in before arriving at the property. Nisshin Geppo is a guest house in Kanagawa prefecture that has been renovated from a lodging facility and is now open as a guest house surrounded by art. It is a guest house that creates a feeling of "like sleeping in an art museum".
When guests make a reservation, a confirmation email will be sent the day before stay, and the pre-check-in information will be included in the email. By using the touchless check-in mechanism, guests can complete check-in on the train or in the car on the way to the property. Guests who have completed pre-check-in will be able to check-in smoothly after arriving at the property.
- Check in while relaxing in cottage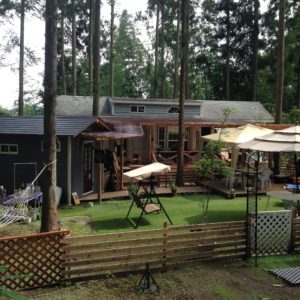 Guest Inn Yashiro-no-Mori uses touchless check-in as a way to let guests check in at the cottage without hassle. It is a Pet-friendly property in Gunma Prefecture. It is directly connected to a private dog run of 200 square meters, and you can experience the finest holidays surrounded by forests.
Guest Inn Yashiro-no-Mori has separate cottages, so that guests can stay completely private. Instead of having to check in in a hurry after arrival, guests can take a break in the room first and then check in. The guest's smartphone scans the QR code so don't have to choose a location to check in. Especially when it comes to pets, there may be many guests who want to take them to Dog Run first after arrival.
- Open the hotel even during lockdown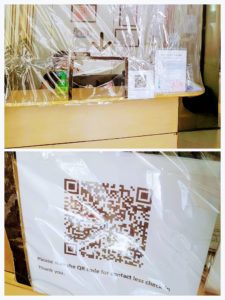 My Dian Suits used touchless check-in and continued to accept guests during Corona lockdown. My Dian Suits is a hotel located in Makati City, Republic of the Philippines, and the Metro Manila area that includes Makati City was locked down, but at the same time it was accepting guests. The reason is that the guests of My Dian Suits are mainly corporate customers related to ship logistics, and many of the essential workers related to ships are guests.
At My Dian Suits, guests are required to scan their QR code on their smartphones to check in when they arrive. Avoiding contact is a big reason, but also centralized management of check-in information for many guests and the efficiency improvement was a major point to use the service. In the future, it would continue to use the service in order to avoid the cost of check-in while continuing touchless.
Offering Free Trial
We are currently conducting a free trial as a trial of touchless check-in so that it can be used at many facilities in Japan and overseas. Please register your account and give us your feedback. We look forward to your opinions and requests.
Company Profile, and Contact
Acomo runs business with the mission of "More Efficiency in Tourism Industry." We are developing various businesses related to tourism such as B2B ordering reservation system for accommodation facilities, and BPO for Tourist Destinations.
Acomo Inc
Contact: Koji Hayashi
Email koji@acomo-inc.co.jp